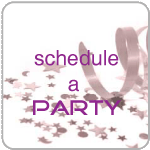 Have you heard about Gold Parties? With gold prices at historic highs, people are hosting parties in their homes, communiity centers, churches and synagogues to help friends sell their unwanted jewelry for cash. It's a great reason to get together with friends and family. The gold party concept is ideal for fundraisers because a portion of all exchanges can be contributed to your cause.
See the

NEWS report on Gold Parties. This short news report delivers the scoop on hosting a gold party.S
How does a Gold Party work?
We've all been invited to parties where someone was trying to sell something, like Tupperware®, makeup, vitamins, home goods, etc. Gold parties are an alternative (or compliment) to a product sales party where your guests bring unwanted jewelry and coins and they exchange them for cash. While everyone is socializing and otherwise enjoying the party, an Aurum Exchange representative evaluates the value of each piece of their jewelry. An offer is made to the trader based on the metal value and if accepted, cash is handed over on the spot.
There are many popular reasons to host a gold party. Some hosts simply want to help friends get extra cash for unwanted jewelry. Some host parties as fundraisers and contribute a portion of each exchange towards a philanthropy. Regardless of the reason, you can count on Aurum exchange to manage the jewelry exchanges in a professional and courteous manner.
The ideal fundraiser
Are you a parent on your child's school PTA fundraising comittee? Are you looking for an original fundraiser idea that will generate a lot of money? Consider a cash-for-gold fundraiser! Aurum Exchange will team with your PTA and donate a percentage of all referred exchanges to your school, church, synagogue, etc. We'll be glad to set up a table at the entrance to Sunday School to spread the word to parents during dropoff and pickup. Or, consider inviting Aurum Exchange to your crafts bazaar, boutique fleamarket, or your organization's spaghetti dinner fundraiser.
For more information, read our FAQ's or contact Aurum Exchange.